Our Back Pages
Issue 36
Issue Date: October, 1975
Guest Editor: Robin Skelton
Pages: 148
Number of Contributors: 24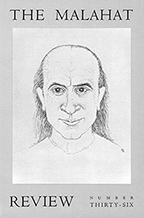 Issue #36 emerged at time when the future of The Malahat Review was in peril. Thanks to the collaborative efforts of many people, including letters of support from writers around the world, support was increased, allowing this publication to continue as one Canada's leading literary journals.
The cover art reflects the spirit of such collaborative effort. Famed American printmaker and typographer Gregory Masurovsky's portrait of his French friend and artistic collaborator, Michel Butor, graces the cover. A working friendship lasting more than forty years resulted in an impressive body of work including their series "Western Duo." Ten lithographs from the series appear in this issue.
"Three Poems of Africa" offer insights into what can happen when such collaborative sentiments fail to take hold. Themes of oppression and the resulting loss of identity and autonomy weave their way through the works of Stan Trevor, Steve Chimombo and Linda Sandler. Also of note is an early version of The Speckled Bird, A Novel by W. B. Yeats. According to introductory notes by William H. O'Donnell, this unfinished "autobiographical novel" was begun in 1896. Yeats wrote four distinct versions, totalling more than seven hundred pages of manuscript, before he abandoned the project in 1902 or 1903. It explores feelings of alienation experienced by an Irishman coming of age during the Celtic Revival, a movement against the cultural influence of English rule during the Victorian period. A scholarly edition of The Speckled Bird was later published, in 1976, by Macmillan.
Collaborative efforts resurface in "Farewell to a Ghost." In his enchanting short story, Manoj Das, recipient of India's highest literary award, offers up an imaginary world in which the spiritual, supernatural, and human elements come together in a small Indian village. Meanwhile, Spain's Gonzalo Suarez tells the story of a man who runs a rather unconventional but profitable business selling books to the dead in "Getting Rid of Crisantemo."
Reviews of new books by British Columbian authors Audrey Thomas, Jane Rule, and Rona Murray round out the issue.
—Robin Reniero