Our Back Pages
Issue 111
Issue Date: June 1995
Editor: Derk Wynand
Pages: 129
Number of contributors: 27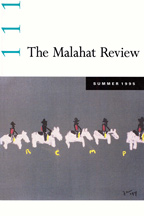 Issue #111 features the winners of The Malahat's 1995 Long Poem Prize: Esta Spalding, for "Aperture," and Barbara Nickel, for "The Rosary Sonatas." Also featured is work from Swedish poets Karin Bellman, Lennart Sjögren, and Staffan Söderblom, translated by Robin Fulton. Themes of nature and vulnerability predominate these pieces, as in Karin Bellman's lines "I stand here. / naked with the shallow stones / the water and the crabs." Two poems by North Vancouver's Russell Thornton offer further international flair, presenting rich snapshots of Greece through the eyes of a traveller. Thornton's evocative metaphors — "the brilliant skull of the moon," "the voluptuous, cool, grape-dark sky" — make him a delight to read. Suzanne Buffam's four prose poems reflect on self-consciousness and the hunger for attention in a pre-teen speaker as she tries to navigate the self-discovery and social pitfalls of early adolescence.
Striking short fiction includes Zsuzsi Gartner's "Untitled, 1986," a curious, fractured narrative told along multiple timelines and set in a kaleidoscope of cities. It is, at once, the story of a haunted Hungarian painter named Kiss, and a young girl coming of age told over a series of dreamily titled summers: grasshopper summer, belly-button summer, brush-fire summer.
An excerpt from Wayson Choy's 1995 novel The Jade Peony (not yet published at the time of the issue), is presented here as the short story "Turtle." Choy, born in Vancouver in 1939, grew up in the city's Chinatown, just like his young Chinese-Canadian protagonist. In this excerpt, the boy becomes the new owner of a lucky turtle. The Jade Peony would be co-winner (with Margaret Atwood's Morning in the Burned House) of the 1995 Trillium Award and won the City of Vancouver Book Award.
—Chloe Hogan-Weihmann