Make It Breathe: Sarah Lachmansingh in Conversation with Conor Kerr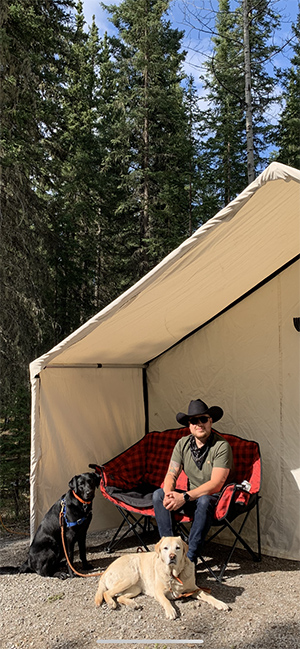 Malahat Review Fiction Board intern Sarah Lachmansingh talks with Conor Kerr, 2022 Open Season Awards contest poetry judge, about his search for poetry that kicks colonialism in the face, how submitting poetry can be a bit like duck hunting, and his gratitude for every single reader.
Conor Kerr is a Métis/Ukrainian educator, writer and harvester. He is a member of the Métis Nation of Alberta, and is descended from the Gladue, Ginther, and Quinn families from Lac Ste. Anne & Fort Des Prairies Métis communities and the Papaschase Cree Nation. Conor is a harvester, labrador retriever enthusiast, and NDN Mario Kart champion. In 2019 he received The Fiddlehead's Ralph Gustafson poetry award and in 2021 The Malahat Review's Long Poem Prize. His first books, a poetry collection An Explosion of Feathers and a short story collection Avenue of Champions will be published in 2021.
What qualities are you looking for in a winning poem?
Something fun. I love writing where you can tell that the poet is just having an absolute blast writing it out. Playfulness, honesty, mistakes, I think all of these things are necessary for good poetry. Not that I really know what good poetry is from an academic sense or even a "writer" sense (uh-oh, bad contest judge choice Malahat Review…… duh duh duh) but I do know what is entertaining, what is thought provoking, what brings up a feeling. I love poetry that you can't shake. You need to take a walk and stare at some magpies, or seagulls, or seals or something to get back to reality. Bonus points for poems that feature fast food, specifically Dominos or A&W (joking, or am I?).

Make that poem sing. Make it breathe.

Make it kick colonialism in the face.

Or at least make us think about the structures that exist around us.

Do not write a poem about old white dudes, boats, or weird colonial aspects (ie., Christian/Catholic guilt). I don't need to read that shit and I don't think anyone does at this point. We've had enough of that in this world.
Has co-winning 2021's Long Poem Prize impacted how you view your role as a contest judge, or how you will approach submissions for the Open Season Awards? What advice would you give to those who are interested in submitting to contests?
Well, I'm not going to lie. I'm a little sad that I can't submit poetry to the Open Season Awards now. I legit submit to everything and every open call to submissions that's out there from a lit mag. You need to be comfortable with the poem being out in the world, because there is always a chance that it will win and be read by a lot of people. But that's kind of exciting too.

When I used to work as a bird hunting guide in southern Saskatchewan there's a term we use called flock shooting where basically there are so many geese or ducks or whatever that the hunter panics and just shoots into the flock but doesn't manage to hit a single thing. Submitting to contests is a bit like that.

Or it isn't. Because sometimes a poem hits and that duck comes down and we're eating good tonight.

Remember that contests are subjective crapshoots. A lot of established writers don't bother submitting to them because they rely on their name recognition to get things published at this point and a contest eliminates that. Sure you might be able to recognize a couple style elements in a blind submission but as it goes through the initial contest reviewers I highly doubt that people can individually pick out who wrote a poem. And that's okay. This is the beauty of contests. It creates a level playing field for everyone to be able to have a chance. I had a poem that I submitted to multiple literary magazines. It was rejected by every single one. Then I sent it in to a contest (Fiddlehead Ralph Gustafson award) and it won. So who knows.

I think literary contests and magazines in general need to do a better job of reaching out, facilitating and supporting entries from Trans, 2Spirit, Black, Indigenous, People of Colour, by removing contest fees, doing community outreach, and working to generate more appropriate support resources to bring in their voices.
You have experience both as a contributor to The Malahat Review in issue #206, and as a contest co-winner of 2021's Long Poem Prize (in #215). Have these experiences differed in any way, in how you approached the works you submitted, or in another way?
Nah. Though I'm not going to lie when I was writing up [2021's Long Poem Prize winning poem] "Just Passing Through," I had a lot of confidence about it as a poem. I didn't know if it would be contest winning material but I knew that it could definitely be the back anchor for another poetry book. That main poem that holds everything else together. I like to take contests and work entries towards them. It gives me a bit    of direction. I know people who say just write what you are writing and if it fits great. But I take the opposite approach to it and check out the guidelines for contests and work for that. I like a little direction. Though, I can say that I've never really considered what a judge or a panel thinks about the piece. That isn't something I'm shaping an entry towards. And if something doesn't place/get published, shit, you still got a great piece of writing that you can submit in to other contests or literary magazines or to hold close to you.
At the end of the day anytime I see anything I've written in print I get pretty fired up. I'm still not over that initial feeling. And I hope I never will be.
I noticed in the bio of a past interview for The Malahat Review that your poem, "Directions to the Culture Grounds" was your "first published work ever." How has your work evolved since this publication?
Oh, my baby, baby, baby poem. That unit was one of the first poems that I wrote after an 8-year hiatus from writing between my undergraduate degree from U of A and the decision to start creating a portfolio for the UBC MFA program. I also entertained the thought of an MBA at one point. Could you imagine how boring that would be? I didn't write during that time, but I do feel that my mental maturity evolved enough to move beyond whiny masculine writing in my undergraduate to a more all-encompassing one that spoke to my experiences as an urban Métis man. I was an angry, depressed, lonely person during my undergraduate. Not fun to be around and my writing really reflected that. When I came back to writing and started thinking about some of my lived experiences, and how to capture those properly I think writing started clicking for me in a better way. I'm more cognizant now of the audience, the tone of poems, how something feels on the page (though I still do not give a shit about punctuation) and how it may be perceived. So I guess I'm more aware of external factors. But at the end of the day all my writing is and will always be for me. I want to be able to reflect back on it and capture a time and place within my life and remember the friends I was spending time with, the way things made me feel then, the different things going on externally in the world and internally in my own head.

I also just think in general I've put so much time into writing now that it really helps. Mind you I still can't believe that anything I've written has been published or that anyone would want to read it. So I'm very grateful for every single reader. I write for a couple hours a day, every day, and started that during my MFA and have kept it going since. It helps ground me, clarifies my thought process, and you should see the amount of "untitled" word documents on my google drive that have two pages of writing that goes nowhere and will never be revisited again. But it's all good practice. Not all writing needs to get published, or to win a contest. Sometimes it can just be for you too.
You mentioned you had experience with MFA workshops in a past interview for The Malahat Review and that you learned your "writing style isn't for everyone." Do you have any advice for writers who may be trying to accept this idea as they share their work?
I think, personally, that people are drawn to certain writing (some people like Harry Potter, some people like Twilight, some people (me) thought the children's series Redwall was the peak of the literature canon). Especially in something like poetry where it is very subjective. I'm more drawn to narrative poems, funny poems, gut-wrenching poems. I know some people who are really into conceptualism. I got nothing against that style but it's not for me. I'm more into the words than the way they look on the piece of paper (though I really do like the way that "Just Passing Through" looks in the latest issue of The Malahat Review) and like I mentioned earlier, unless the punctuation is actually detracting from the narrative I do not care about that. I had some temper tantrums in a few of my MFA workshops about this where people were very, very, very into punctuation. Which still seems weird to me. Not my temper tantrums. Those were legit.
But you better get used to rejection if you're a writer. I thought my MFA thesis was gold and would be an easy publication for some press. Turns out after a series of rejections and waiting around for responses that it wasn't going to be that simple and I made the mistake of waiting around for literary agent responses that never came instead of just spamming it out there. That took a couple months off of it. Then I sent it to Douglas & McIntyre. They gave it to Nightwood and within a week from me submitting it we had a signed contract. Now it's coming out at the end of October as a novel, Avenue of Champions (a couple of the stories in there were shortlisted for The Malahat Review's Fiction/Novella contests). Which basically brings me around full circle to some stupid point I'm trying to make, which is, if people want your writing they'll make it happen. Wow. Mind blowing.
Sarah Lachmansingh
* * * * * * * *