A Healing and Honest Path:
Paul Watkins in Conversation
with Louise Bernice Halfe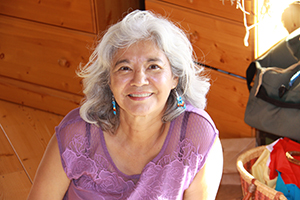 Vancouver Island University professor Paul Watkins talks with Louise Bernice Halfe about her contribution of four poems to the Malahat's Indigenous Perspectives issue: "Finding Bone," "God of nightmares," "it was a pure," and "Skeletons and Cannibals."
Louise Bernice Halfe – Sky Dancer was raised on Saddle Lake Reserve and attended Blue Quills Residential School. Louise is married and has two adult children and three grandsons. She served as Saskatchewan's Poet Laureate for two years. She has served as "keynote speaker" at numerous conferences. Her books, Bear Bones and Feathers, Blue Marrow and The Crooked Good, published by Coteau Books, have all received numerous accolades and awards. Her most recent publication, Burning in this Midnight Dream, was released on April 2, 2016. Louise was also awarded an honourary degree from Wilfred Laurier University.
I really love how vivid and original your poetic voice is in these four poems. From the perspective of "She," you powerfully work through the incendiary memories of an Indigenous woman. The past—which can be both a joyous and incredibly painful place to visit—feels like a space where stories and history can be stitched back together to make sense of the present. What kinds of diggings are at work in these poems? What can poetic voice uncover/ recover?
The four poems differ from one subject to another. They address depression, desire/longings, and committed love. These are the diggings. How does one save oneself from depression and obsession? Romantic love is about obsession and how does one become untangled. Committed love on the other hand has staying power which the poem seems startled to realize and come to know. Poetic voice if it is true, honest and raw leads to exploration of the inner world and hopefully helps the voice and the reader to a healing if not more of an honest path.
Idealistically, poetry, when it is honest and submits to life, can get at the core of things. Much of your poetry, as I hear it, is about the difficult work of reconciliation through decolonization. That is, I find your poetry productively unsettling in its approach to justice and healing. These poems feel really honest, almost confessional. What kinds of healings are at work in these poems? At times it feels that the world is really sick; can poetry, as medicine, heal this malaise, even a little?
In her article, The Heart-Work: Writing About Trauma as a Subversive Act, author Melissa Febos writes, "Shame is an effective method of silencing." Silence bondage is what brings sickness to a society and one must break it in order to move on. Further, she states, "It is about having abandonment issues." People abandon one another when they cannot be truly honest with themselves, with their Creator and with one another. We must learn to listen non-judgmentally, to accept the person and to abhor the acts of violence. In the sharing of love one can move one. It is freedom. When one tends to an open a sore/wound on their body with tenderness and consideration, administers salve on it, takes out the pus, the wound heals. It is the same when dealing with the spirit and the heart. Perhaps as we dialogue with one another this malaise will lighten.
In your last collection of poetry, Burning in this Midnight Dream—a work that concerns the intergenerational trauma and grief from the cultural genocide of the Residential School system—much of the poetry witnesses from the first-person "I" perspective. In the four poems that appear in the Malahat's Indigenous Perspectives issue, you write in third person and second person (addressing the "you" in the final poem). I point out these distinctions to say that I think these Four Poems too feel very confessional and lyrical. You manage to combine the personal with the communal quite beautifully in your work. Does poetry always involve a laboring of the self within the poem?
In Febos' article, she talks about confessional writing with clarity and eloquence. I believe good poetry if it is to speak to the heart and intellect one must "labor the self" within the poem. Ask Patrick Lane and he will share this sentiment.
There are a number of listenings and readings in these poems. I like how open-ended the poems feel, rather than being overtly didactic. Could you talk about any musical or literary influences that have informed your own poetic practice. What are you currently reading or listening to?
I love reading Rumi and Pablo Neruda and repeatedly return to them. If anything that makes my poetry musical and lyrical it is from the heart. These days I am reading novels that have a sense of humour.
The Malahat's Indigenous Perspectives issue showcases a number of established and new Indigenous voices in poetry. Have you noticed any significant shifts in Indigenous poetry—in how it's received, written, or shared—since you started writing?
I've read all the poems and notice that no one, and thank goodness, is trying to make the words rhyme. The poems are freer in expression, metaphor and story. I cannot say for sure how Indigenous poetry is being received. It seems to me that fiction continues to dominate the mainstream writer and reader. It is also good to see that the native tongue of the writer is being utilized and not mindful that others cannot understand nor able to read it. However, it would be best if they were more inclusive in providing a glossary; I understand the want to be exclusionary, although I am not in the same tent.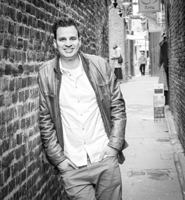 Paul Watkins
* * * * * * * *