In-Betweenness: T. Liem in Conversation with Ki'en Debicki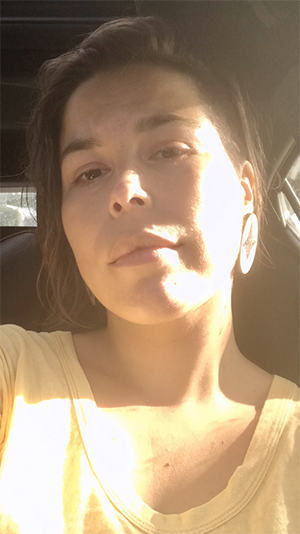 Past judge and contributor T. Liem talks with Ki'en Debicki, poetry judge for our 2023 Open Season Awards. They discuss breaking the rules, multilingual writing, and writing as a practice of self-love.
Ki'en Debicki is Kanien'kehá:ka, Wolf Clan, from Six Nations of the Grand River. They are a parent, a language learner, and a tree and forest devotee. As an assistant professor and secret poet, Ki'en lives an Indigiqueer life in Hamilton, Ontario with their child, their mini schnauz, and their ADHD..

I want to start with trees! I'm moved by the way you describe your relationship with them, and by the way you talked about your poem "Kahkhwí:yo" "representing food, beauty, bodies, desire, and trees together as one." When, or where did your relationship with trees begin? Is there a particular moment, forest, or tree that sparked this relationship?

Haha! Yes. I've definitely got a thing for trees. I wrote a whole dissertation about them, actually. So I'll tell you the story that I wrote in the diss. My whole family (2 parents, 4 children [all adopted], and two golden retrievers) used to camp in Algonquin Park every summer for four weeks. The red and white pines in Algonquin raised me. They told me I was loved. They told me I belong. My mom tells me that going on a walk anywhere in the park with me was extremely slow-going because I would stop at every stump or fallen log, burst into tears, and cry, "poor broken tree!" Now I don't remember this but that's not unusual for me and I have no reason to suspect that my mother is lying. She tried to explain to me about the circle of life and that just because the tree body was dead or dying didn't mean that the tree spirit was gone. And the tree body, of course, nourishes the forest and eventually, new tree growth. So that was okay I guess. Later, when I was really wrestling with my identity as a teenager and young twenty-something, forests became the only place I felt safe. They were just trees and I was just me and they gave calm and peace and rest. I need that in my life. Even later still when I found myself doing a PhD—of all things!—someone told me that my research topic better be something I loved because I'd be doing it for years. So yeah. Trees. I wrote a whole diss (and I'm working on the book manuscript) about tree teachings and how they can be used as a lens for interpreting Indigenous literatures. I pick a tree, visit it regularly, form a bond, and keep myself open to communication. Sometimes I bring gifts—food or a bit of cloth or something I beaded. Usually I just sit and be with the tree and try not to think too much. I also pay attention to the oral stories about particular trees, their gifts and their agency in the human world. And because I was raised by an artist, I also interpret trees through their aesthetic qualities. What does their bark look like? Their leaves? What could that mean? What could that be teaching? I'm a tree and forest devotee. They had me at "hello."

In your conversation with Conor Kerr you talked about writing as ceremony and I wondered if I could put the question to you: How do you prepare time and space in which to write?
It's hard! I'm recently divorced and I am living on my own now 50% of the time and with my kid 50% of the time. There's also been this plague going around, I don't know if you've heard? So yeah, finding time between domestic care, parenting, teaching/researching at the university, dog-caring, language learning, and growing and healing as an Indigiqueer enby keeps my schedule pretty full. I know lots of writers who swear by 5:30am writing session but that is just not me. Or, it might be me if I could get my body to agree. Writing has become something I do whenever I find myself in a moment of calm. When kiddo is at school, the dog has been walked, the dishes have been cleaned and the emails have been answered, and I'm not totally exhausted. When kiddo is at their dad's and I'm sitting on my porch with a coffee. When I'm on the bus. When I'm in the forest walking the dog. When I'm waiting in the doctor's office. I carry a small notebook with me everywhere and jot down inspiration and ideas as I move about my day. It's not ideal. What I'm working to create is a morning writing routine that I can do most days as a habitual practice. But getting my ADHD on board is tricky. That's where ceremony or ritual has come into play for me. If I can signal my brain with smudge, soft music, a cup of coffee, an offering of thanks, that Oh! It's writing time! Then I'll have a much better chance of actually writing habitually. Writing is a practice of self-love. At least it is for me. I can't do it if the voice in my head is being a jerk. I can't do it if I feel pressured to achieve external recognition. The only way I can write is if it's a ritual of self-love. I am loving myself by prioritizing writing. I am loving myself by letting the writing go where it wants and do what it wants without forcing it to be something in particular.
I'm interested in the not-perfect translation and the feeling of in-betweenness you've talked about before. When I am using Bahasa Indonesia, or Javanese in my writing, alongside English there is a certain energy it takes to navigate being between languages. Would you talk more about how you approach including Kanien'kéha in your writing, or how you think about multilingual writing?
Love this question. Okay, so, I have been studying Kanien'keha on and off since 2003. That's a long time! And I can probably talk at the level of a two-year-old. I'm proud of that! I have enough know-how in Kanien'keha to be able to use resources to help me, which means I can do some learning on my own. And here's the kicker: I hate English. I don't understand it. I don't like it. I can't teach it! (don't tell McMaster this because officially, I'm an English professor…). My kid is six and I'm supposed to teach them how to read. It's really hard for me because I can't explain why things work they way they do in the English language. Also there's colonialism, which, you know, I'm not a big fan. English is also a noun-based language, right? It's all about making everything into a "thing" which brings us right back round to colonialism. Kanien'keha is verb-based; everything is relational and about how you exist in the world. Even though I don't have enough of Kanien'keha to write fluently, I do understand enough about its syntax to import Kanien'keha linguistic worldview into English word usage: everything has agency, everything is alive, everything is in relation. I'm also beginning to play with using Kanien'keha words that sound like English words. So wahta in Kanien'keha means Maple tree, but it sounds like the English word, water. That's fun: I want to play!
Whether there is advice you'd give or if you'd just indulge my curiosity—as I find it really interesting to hear about how other writers know when a work is "done"—how do you know when a poem is done, or ready to send out?
Good question. I think it tells me? Like it feels whole. When I read it out loud or record it and then listen to myself speaking it into the world I get a sense of rightness. Like…roundness or fullness. Some pieces are harder to tell than others. For those I usually get a second opinion.
What kinds of poems will excite you and hold your attention as you consider entries for this year's Open Season Awards?
Hmmmm… I'm really into breaking the rules. Whether that means giving colonialism the middle finger, using a completely different dialect, experimenting with form, or asking me to suspend disbelief as I follow a poet into another world. Anything that says, it's the end of the world but there's still beauty and love here. Anything that imagines worlds or ways of being and relating beyond capitalism. I'm also a sucker for experiences of in-betweenness and I know there are lots of you out there that fall into that space/place!
Would you share what writing, music, or any kind of art is giving you joy lately?
I read a lot all over the place so hold on for this: Patricia Lockwood's Motherland Fatherland Homelandsexuals. alexis pauline gumbs' Dub: Finding Ceremony. Max Liboiron's Pollution is Colonialism. Joshua Whitehead's Making Love With the Land. Felicia Rose Chavez's The Anti-Racist Writing Workshop. Angela Davis' Freedom is a Constant Struggle. Nnedi Okorafor's Akata Woman. Those are the books currently on my nightstand. As for listening: the vs. podcast with Danez Smith and Franny Choi is a must listen! Ooo and I just went to see Florence + The Machine in TO: amazing! I also saw Metric and the Beaches this summer—both fantastic! Vivek Shraya is an inspiration, always. I'm also a huge fan of ChiefLadyBird whose work you can check out on insta. Lots of the art, writing, and music that inspires me comes from Hamilton, where I live, work, and play. Hamilton Artists Inc.—a not-for-profit artist-run centre—just had an exhibit called Born Celestial curated by Alex Jacobs-Blum that was really special. Long answer short, I guess I find my inspiration everywhere I go!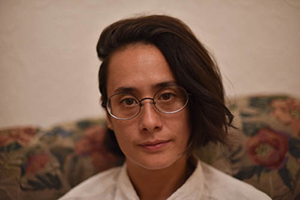 T. Liem
* * * * * * * *