The Malahat Review at CCWWP

Join the Malahat at this year's CCWWP (Canadian Creative Writers and Writing Programs) conference, held at the University of British Columbia campus in Vancouver on May 16 and 17, 2014.
Joelle Barron Reads for the Malahat
Saturday May 17, 1:45 p.m. - 3:00 p.m.
Joelle Barron, whose poem "A Girl Like This Might Have Loved Glenn Gould" won the poetry category of the 2014 Open Season Awards, represents The Malahat Review at "Literary Magazines and the Future of Canadian Literature."
During this afternoon reading, Joelle joins four other readers representing literary magazines from across the country: Clea Young (reading from The Fiddlehead), Kayla Czaga (reading from Arc), ryan fitzpatrick (reading from filling station), and Lori McNulty (reading from The New Quarterly). The reading is hosted by Aislinn Hunter.
This is what the conference program says about this event: "Most writers in Canada get their start in a literary magazine. Pick up a back issue from 10 or 20 years ago and you'll find the names and early offerings of some of our best writers. Literary magazines are not only great platforms and great testing grounds, they are also great predictors: of trends, themes, styles and movements."
Read an interview with Joelle Barron on her Open Season Award win.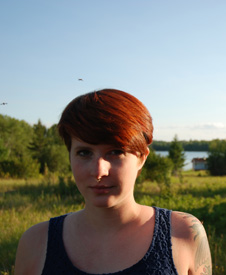 Malahat Fare at the CCWWP Bookfair
Friday, May 16 - 17, 9:00 a.m. - 5:30 p.m.
Drop by The Malahat Review's table at the CCWWP Bookfair!
Peruse a copy of Issue 186, Spring 2014 (the current issue, featuring Joelle Barron's prize-winning "A Girl Like This Might Have Loved Glenn Gould") and past issues of the magazine. Pick up a Malahat bookmark, learn about our annual literary contests, or purchase a limited edition P. K. Page broadside of her National Magazine Award-winning poem, "Deaf-Mute in the Pear Tree."
Check out the CCWWP website for more information on the conference.