Far Horizons Award for Poetry
2022 Winner - Meryem Yildiz
The Malahat Review is pleased to announce the winner of this year's Far Horizons Award for Poetry. Meryem Yildiz has won $1,250 for her poem, "Inner Child Work," set for publication in our 2022 fall issue #220.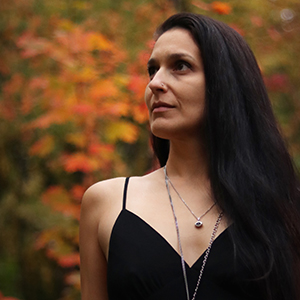 Meryem's entry was selected from over 300 poems! Here's what this year's judge, Laura Ritland, had to say:
Of the many qualities that makes "Inner Child Work" so impressive is the way that it recalls and rewires the sonnet form: the meter ebbs or overflows regular iambic pentameter, the fourteenth line is dropped, and the final couplet is reduced to an internal rhyme ("right" / "light"). Far from being mere aberrations, such departures thrum in intricate alliance with each pithy, concise line to show us that what is broken can be remade and what is lost restored. These fractures in form are beautiful sutures and magical repairs, producing a poem so perfectly compact and hopeful that you could carry it around everywhere in your pocket like a talisman. "Inner Child Work" not only offers a courageous portrait of the process of healing—it undertakes that very labour through its own "work" of art.
Meryem Yildiz is a poet, translator and visual artist born and based in Tiohtià:ke (Montreal). She has contributed to various multidisciplinary events, literary magazines, and other publications in Canada and abroad. She holds a BA in psychology from McGill University and a graduate diploma in translation from Concordia University. As a hybrid bird, she feels most at home in liminal spaces.
An interview with Meryem Yildiz on her winning poem will appear in October or November's Malahat lite e-newsletter.
Congratulations to this year's Far Horizons contest finalists: Atma Frans, Farah Ghafoor, Patrick Grace, Joseph Kidney, Ying Lee, Tariq Malik, Amy Murphy, Christopher Rafuse, Sean Wang, and Sebastien Wen.
Thank you to all contest entrants, judge Laura Ritland, and our kind and hard-working volunteers.

The Malahat Review's Far Horizons Award for Poetry runs every even-numbered year, alternating with the Far Horizons Award for Short Fiction.